American Hair Research Society
Mentorship Program
Mentorship Program:
This program supports resident trainees, postdoctoral fellows, scientists and dermatologists in the early stages of their career for short-term projects while they learn about hair disease with researchers experienced in investigation, diagnosis and treatment of hair disorders.
---
The AHRS Mentorship Program is one of the important successes of AHRS. It was founded in 2003 and continues to be a popular program that brings together students and mentors from not only across the Americas, but from across the globe. The program allows students with an interest in hair research to spend time with a senior faculty member from another institution.
Corporate donations help make the program possible. AHRS is grateful to all corporate donors, and especially acknowledges Bosley for its long term support of the program, since inception. During the program's early years, Bosley was the sole supporter of the program.
Dr. Ken Washenik, President & Chief Medical Director of Bosley, accepts plaque of recognition from Dr. Maria Hordinsky, AHRS President, March 3, 2017, Orlando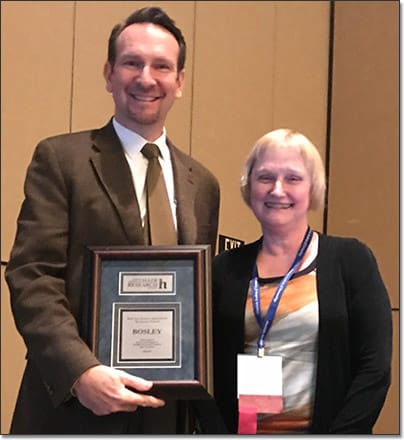 AHRS Mentorship
Program Details
AMERICAN HAIR RESEARCH SOCIETY
MENTORSHIP GRANT PROGRAM
Scientists-in-Training – Dermatology & Pathology Residents
Dermatopathology Fellows – Junior Faculty
DESCRIPTION:  It is required that both Applicant and Mentor be a American Hair Research Society member to apply for the Mentorship Program. If you or your Mentor are not AHRS members, please apply for membership prior to submitting your Mentorship Award application. A membership application can be found at: https://registrationreports.com/grants/ahrs/mentorship/
PURPOSE: To enable young physicians and scientists to acquire additional academic or research skills that will further their careers as leaders in hair research. Note that the focus of the program is on establishing a mentoring relationship, and not a specific research project. Grants are intended for travel, room and board as needed to establish the mentoring relationship. Grants are not intended for costs associated with meeting attendance or for the purchase of books. The mentorship committee will not consider any budgeted costs other than travel, room and board.
Applications must include:
Completed application form.
Statement of purpose
Curriculum vitae.
A letter from the proposed mentor to include a statement of willingness to provide the time necessary for this mentorship, any significant and pertinent details of the planned mentorship, and a specific mention of whether the time frame and budget are appropriate for the proposed mentorship.
A letter from the department chair attesting to the applicant's character and potential to benefit from the mentorship.
POST-MENTORSHIP REPORT: 
A one page written report by the applicant summarizing the experience and what was learned is required after the mentorship has been completed, along with a photo of the mentee and mentor together (if possible) – for possible publication on the AHRS website.
APPLICATION DEADLINE:
Completed applications must be received by November 30, for awards to be announced in March. After we receive your application we will contact you within 48 hours. If you have not heard from us within that time frame, please follow-up regarding your application.